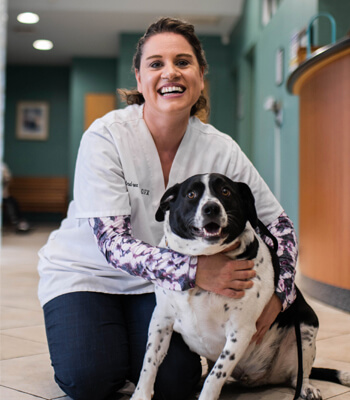 Dr. Andrea Barros joined the East Northport family in July of 2010. She graduated in 2004 from the New York College of Environmental Science and Forestry in association with Syracuse University with a degree in Biology. She then furthered her education at Louisiana State University School of Veterinary Medicine where she became a Doctor of Veterinary Medicine in 2009.
Dr. Barros is a member of the American Veterinary Medical Association, the Long Island Veterinary Medical Association, and the New York State Veterinarian Association. She greatly values her ability to help animals who are sick and provide some relief to their pain. Dr. Barros loves providing comfort to animals and in turn, affect the lives of a family in a positive way by helping their beloved pets.
Her compassion for animals and her personal attention to her patients is a key part of what makes Dr. Barros an amazing veterinarian. She has two lovely pets, Jackie, a domestic shorthair cat who loves to play, and Arabella, a mixed-breed dog who loves treats and relaxing in the backyard. In her free time, Dr. Barros loves hiking, beach days, writing stories, creating art projects, antiquing, studying dendrology, reading/literature, exercising, and playing board games.