Staff of Veterinary Center of East Northport
Veterinary Center of East Northport is fortunate enough to have some of the most talented, experienced, and compassionate veterinary staff East Northport has to offer. We genuinely care about our clients and their incredible pets, and we strive to deliver the best veterinary attention available. Get to know our team better by reading their biographies below!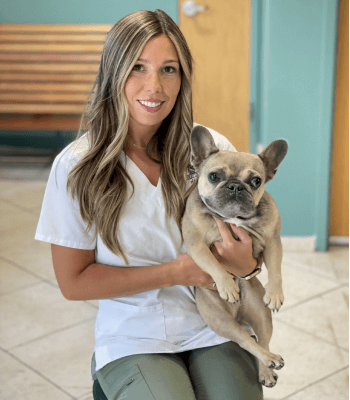 Brittany, Practice Manager
A Kings Park native and Stony Brook University alum, Brittany joined the Veterinary Center of East Northport in 2012 and quickly climbed the ranks to become Practice Manager in December 2022. With a lifelong love for animals, she not only excels in her role but also shares her home with Fiona, her French Bulldog, who adores tagging along for the ride. She is usually sleeping through most car journeys, but being a pup is RUFF work!

When she's not ensuring top-notch care for your pets at the center, Brittany enjoys traveling and outdoor activities like skiing and kayaking, often accompanied by her husband. A strong believer in the importance of family and friendships, Brittany brings a warm and balanced approach to her role, making both pets and pet parents feel right at home. Drop by and experience the compassionate care Brittany and her team offer at the Veterinary Center of East Northport.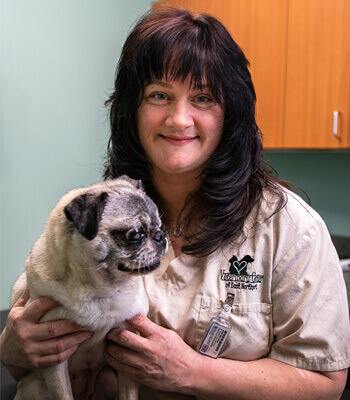 Anna, Licensed Veterinary Technician
Anna Mulhaul is a full-time Licensed Veterinary Technician here at Veterinary Center of East Northport. She began working here in October of 2004 and she is responsible for nursing care, bloodwork, surgery, and dentistry. Anna is originally from Huntington, New York and graduated from Farmingdale State College in 1995 with a degree in Veterinary Science Technology. She has 30 years of experience working with animals within our community and has been working at local animal hospitals since 1990.
Anna says she loves working at the Veterinary Clinic of East Northport because she has gotten to work alongside her peers for the past 30 years and is an integral part of this community. We are so happy that Anna has chosen to dedicate her time and experience at our clinic and she continues to pursue her passion for quality veterinary care with us. Anna has 5 dogs, 4 cats, 5 goats, and 7 horses. In her free time, Anna enjoys practicing agility training with her dogs, riding trails with her horses, going on vacations with them, spending time with family and caring for her grandkids.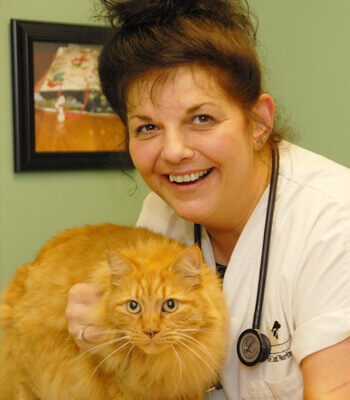 Laura, Licensed Veterinary Technician
Licensed veterinary technician Laura has worked in the animal care field for more than 35 years. A member of the staff since 2004, she is proud to be part of a hospital team that provides care and compassion for pets. Laura's free time is spent with her husband, son and all her animals. Her animal companions include one cat, named Poe, and two dogs named Kuda and Link. Gardening, cooking and four-wheeling are among her many hobbies.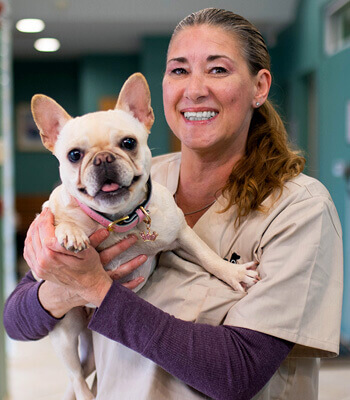 Donna, Veterinary Assistant
Donna has been working with Veterinary Center of East Northport since August of 2005 and has shown to be a valuable asset to our veterinary team. Donna helps our doctors and technicians as needed, provides compassionate care to patients and clients, and much more! What she enjoys most about her position is having the ability to work with sick patients and enabling better health.
One of Donna's greatest attributes is her intent to continuously learn and expand her knowledge of the veterinary field. She possesses a keen ability to handle cats with ease and comfort and shows great prowess in building and maintaining lasting relationships & bonds with our clients and their pets.
Relaxing at home with her French Bulldog, Rari, is one of her favorite things to do. Donna also enjoys traveling on cruise ships and traveling the world with her boyfriend. She has been to the Caribbean, Canada, Mexico, the Bahamas, and looks to travel to many more places.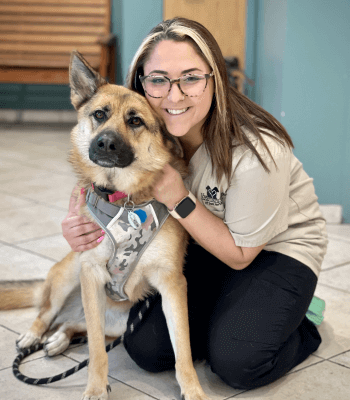 Katie, Veterinary Assistant
As one of our exceptional Veterinary Assistants who started at the Veterinary Center of East Northport in May of 2019, Katie works hard to make sure our patients and clients are well taken care of. She helps with walking and feeding canine patients, stocking rooms with inventory and keeping them clean, and assisting our veterinary team as needed.
One of her favorite parts is getting to interact with all the different animals and being a part of their care and recovery. Katie is a determined, kind, and patient Veterinary Assistant who is a graduate of Providence College. Katie aspires to continue her education in the veterinary field and would love to become a practicing veterinarian someday.
"I love the people I work with and getting to know all of the patients and clients," Katie says. "It's such a happy and inviting environment to work in."
Katie loves to travel and visit new places. She is also content to stay in at home and relax with her loving dogs. Katie owns two Rhodesian Ridgeback mix named Tucker and Cooper, and a Pitbull named Chevy. Katie also likes playing soccer and volleyball and enjoys hanging out with friends whenever she has the time to do so.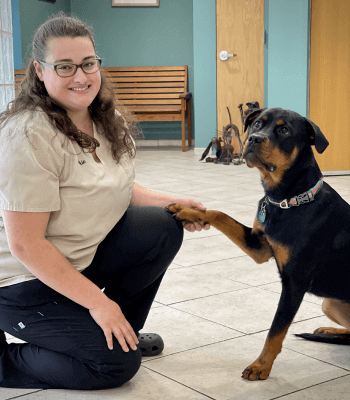 Jackie, Veterinary Assistant
A native of Islip Terrace, New York, Jackie grew watching whatever animal show she could find on television. Her family always kept lots and lots of pets, including guinea pigs, horses, cats, dogs, and a yellow nape parrot that lived to be 46 years old! She earned her veterinary assistant's degree from Eastern Suffolk BOCES.
Jackie's furry family consists of her two cats – Molly and Sonya – a blind pug named Dewey, and a thoroughbred, Harley. Harley has competed at the Belmont Stakes and Saratoga as Jim's Apple Martini.
When she's not working, Jackie enjoys riding Harley on the beach and in local parks, and hiking and exploring new places with her boyfriend, Shawn.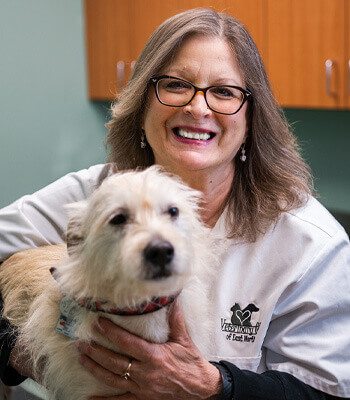 Robin, Receptionist
Robin was welcomed to Veterinary Center of East Northport in June 2008 as one of our full-time Receptionists. assists the center with making appointments, scheduling surgeries, reviewing discharge from surgery and helping to answer any questions pet parents may have. Her favorite part of the job is getting kisses from the puppy patients! She has an unwavering love for all animals and an ability to follow through with any tasks given to her. She loves the knowledgeable and caring staff at the center. At home, she has a dog named Piet who is a Terrier mix. He has a huge following here at the vet center! In her spare time, she loves to spend time with her family, gardening and going for walks.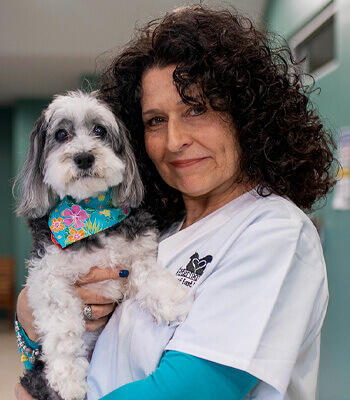 Doreen, Receptionist
Meet Doreen, one of our friendly and personable Receptionists here at Veterinary Center of East Northport. Doreen joined our reception team in October of 2015 and since has been working hard to schedule appointments & surgical procedures, process medication and prescription food requests, and follow up with our clients about their pets after surgery. Doreen helps with so much more and is wonderful person to engage with. She loves interacting with pet owners and their furry families, and she always aspires to provide exceptional customer service.
Being a client here at Veterinary Center of East Northport I was familiar with many of the doctors and staff members," Doreen says. "When a position became available, I couldn't wait to join the practice, and work with a great group of people while making many new furry friends."
Doreen loves to kayak with her family, including Sasha, their Havanese pooch. She also looks after a Gargoyle Gecko named Taka. Doreen loves going antiquing and spending time with her family, friends and loved ones at their Pennsylvania home. She also likes attending dog shows and competitions in her spare time.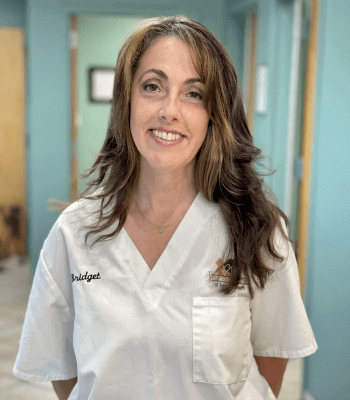 Bridget, Receptionist
Bridget grew up in Huntington Station, Long Island, and currently lives in East Northport with her husband and two children. She has always loved animals and grew up with mice, birds, fish, hamsters, guinea pigs, snakes, cats and dogs. Bridget currently has a chatty tabby named Kuma who greets everyone who enters her home and has trained family members to turn on the tap for her so she can have fresh water. Her Irish wolfhound, Dudley, had been a patient here, so when she saw the receptionist job posting, she knew this was a place where she'd love to work. She loves all living things, but her heart belongs to wolfhounds, and she hopes to have another one day.
In her free time, Bridget enjoys long walks with her family, bike riding and spending time on her boat.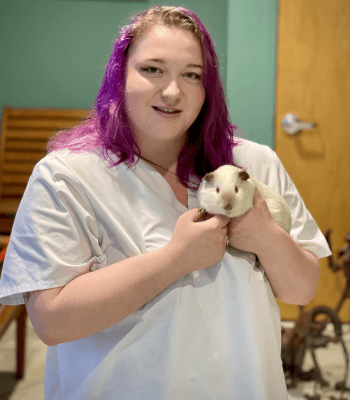 Kira, Receptionist
Kira grew up in East Northport and has had a passion for animals since she was a child. Her strongest memory as a kid was when her pet mouse, Nugget, had a litter of babies right before her eyes- surprising her whole family! Watching the babies grow up was a massive interest to Kira, and her love and fascination translated to a desire to work with animals. When Kira isn't working, you may find her hanging out with her menagerie of animals. Her pets include Sauron, the albino guinea pig, Blitzkrieg, the trouble-making tabby cat, and Tia, the 16-year-old golden retriever/husky mix. Kira enjoys reading books, writing, and playing with her baby sister in her free time.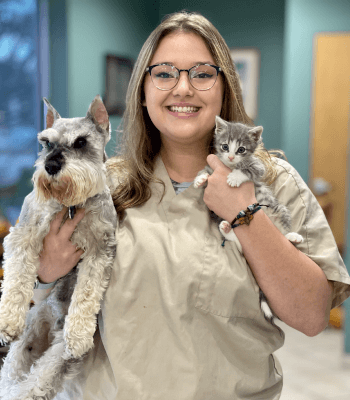 Gabriella, Veterinary Assistant
A native of East Northport, Gabriella grew up only 5 minutes from East Northport Vet. She started at VCEN as an intern and after working there, she realized her true passion was animal care, which is when she applied for Veterinary school
Gabriella's animal family includes two miniature schnauzers, Toby, the foodie of the family and Tink, her athletic girl. She also has two cats, Buttons and Stitch. A few other members of the family include: a leopard gecko named Sancho, and a dwarf hamster named Ruby.
When she's not working, Gabriella enjoys hiking with her dogs, long boarding, painting, drumming or strumming her ukulele, and chilling with her gecko while watching Netflix. She also loves reading up on medicals journals!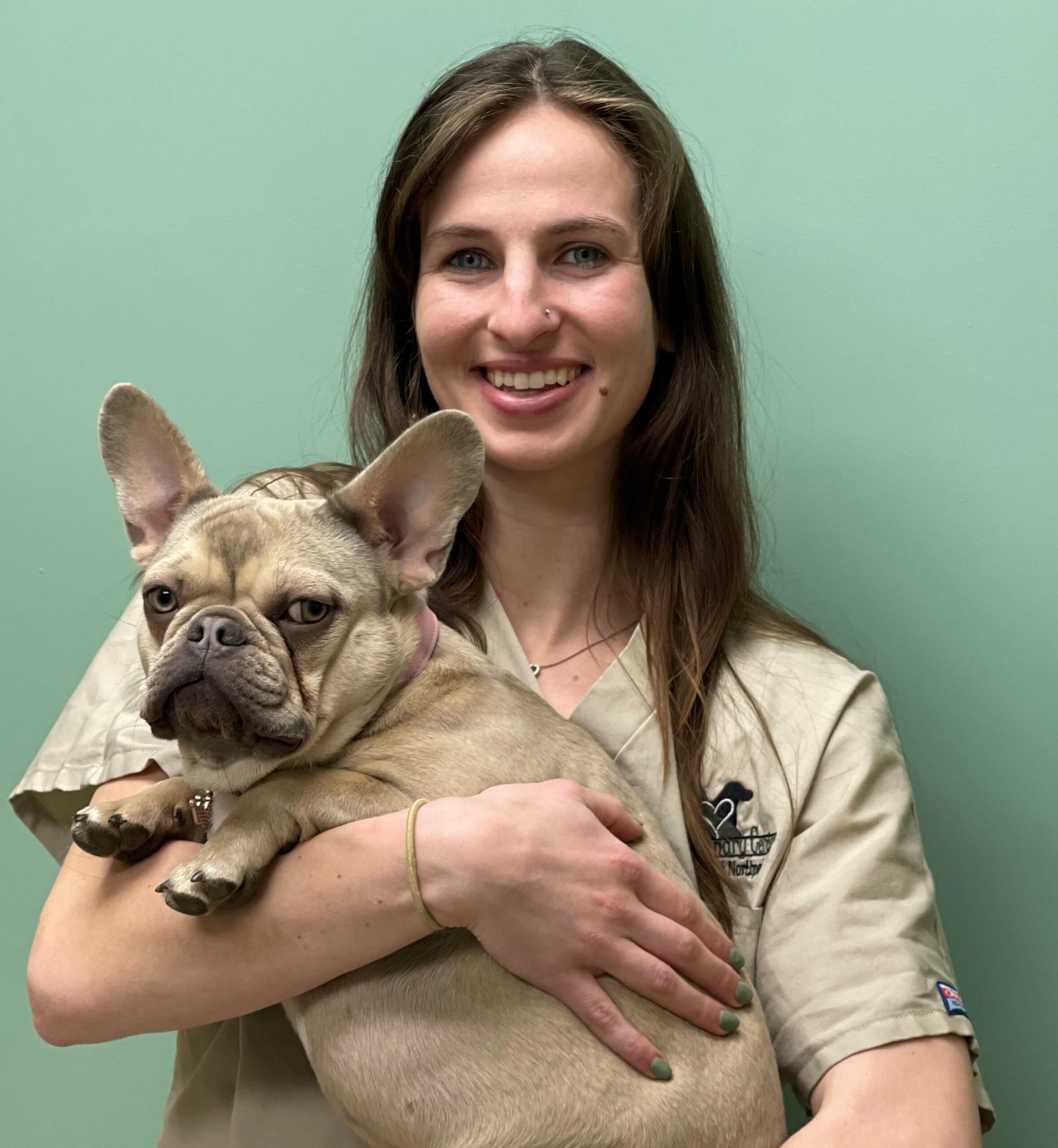 Laura, Veterinary Assistant
Laura grew up in Kings Park and at 14 worked in animal care for the wildlife rehabilitation center at Sweet Briar Nature Center. She graduated from SUNY Geneseo with a Bachelor of Science degree in biology and mathematics. Her animal companions include Ellie, a Chinook sledding dog from New Hampshire; Willey, a bearded dragon; and Jenkins, a 11-year-old goldfish. In her free time, she enjoys working out and running (she ran track for 10 years), as well as hiking, painting, reading, bike riding, traveling and baking.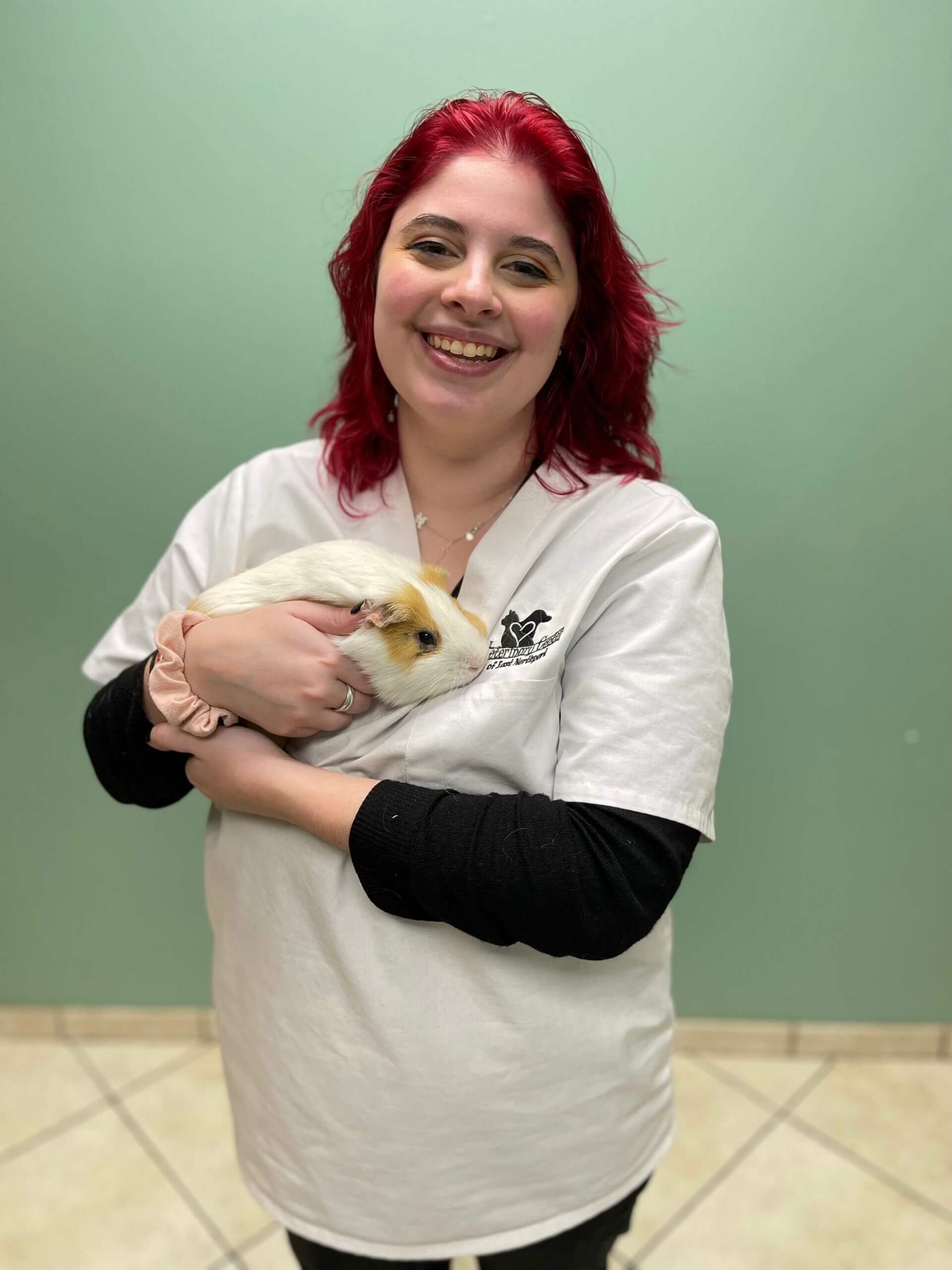 Vanessa, Receptionist
Vanessa grew up in the nearby Commack/Dix Hills area and has a passion for animals that began with her childhood dog, a German shepherd named Shane. As well as being an animal lover, Vanessa is also a talented artist. She earned a BFA in illustration from the School of Visual Arts, and much of her artwork is inspired by her love of animals of all shapes and sizes. Vanessa's current pets include two guinea pigs named Spaghetti and Mozzarella, and she plans to expand her critter crew to include a dog, cat, and a few hens. When she's not working, you can find Vanessa drawing, reading, screen printing, or attending conventions. She's also a fan of the great outdoors and enjoys hiking, camping, and kayaking.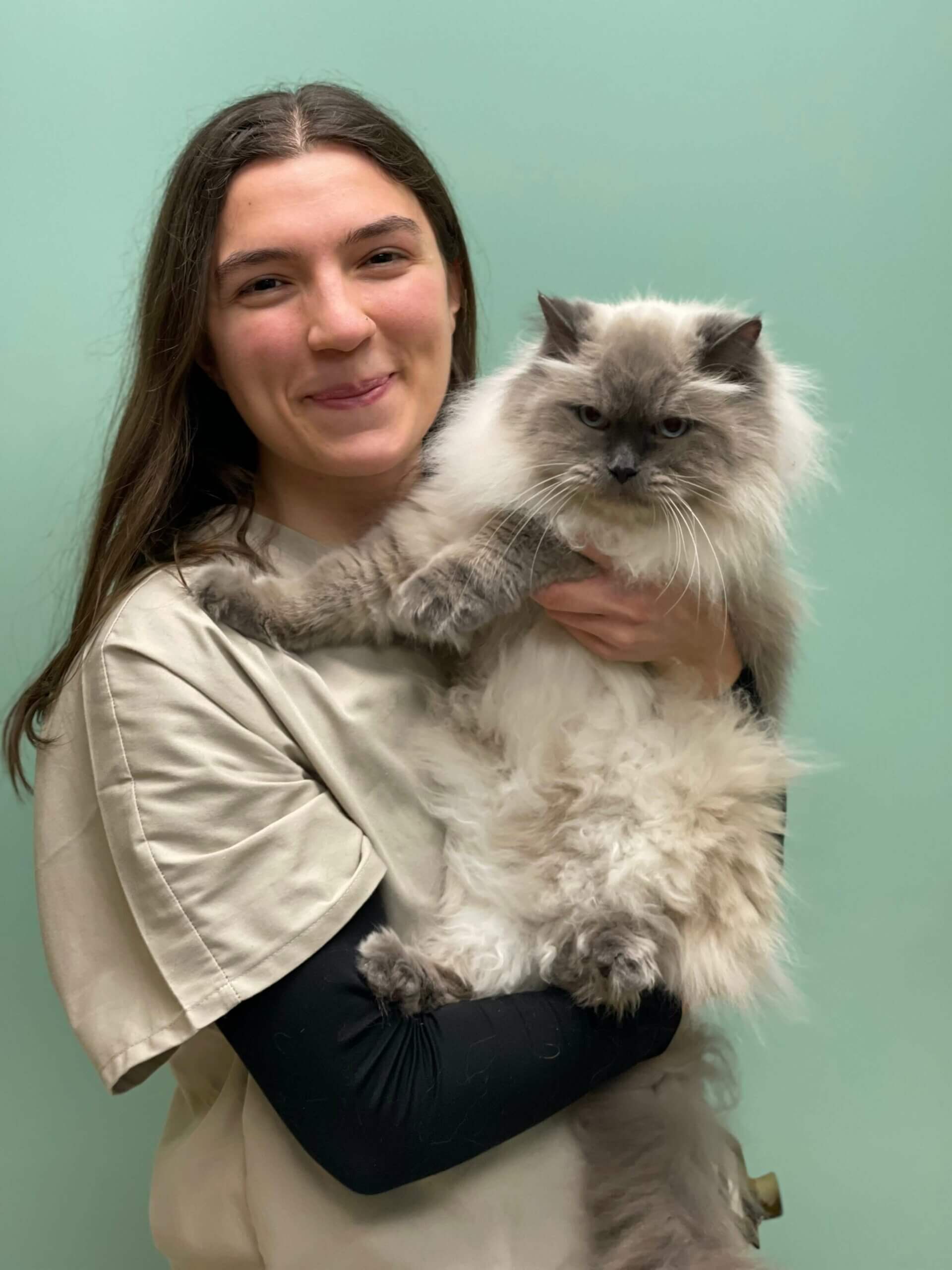 Dimitra, Veterinary Assistant
Bio coming soon.