Dental care is a vital part of your pet's overall health. Clean teeth and healthy gums do more than just stop bad breath – regular dental cleanings prevent periodontal disease, which can lead to more serious infections. The Veterinary Center of East Northport has invested in the latest dental diagnostic technology, such as digital dental radiology equipment, in order to provide the best dental care for your pet.
The Veterinary Center of East Northport provides thorough anesthetic dental cleanings for your pet. Anesthesia is safely administered based on your pet's needs and health history and is monitored throughout the procedure. Our experienced technicians use the latest veterinary dental equipment when cleaning your pet's teeth.
We also stress home dental care: following your pet's cleaning, our staff sends you home with a complimentary month's supply of dental chews to help maintain healthy clean teeth. This is an added level of prevention and a great way to bond with your pet.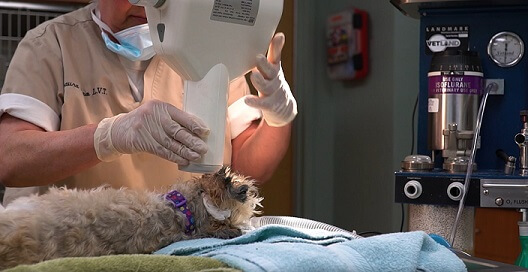 Dental Radiographs
At the Veterinary Center of East Northport, any pet that comes in for a dental cleaning will have full mouth dental radiographs. Dental radiographs allow us to view the internal anatomy of the teeth, the roots and the bone that surrounds the roots. Obtaining radiographs of your pet's teeth is so important because the majority of dental problems lie beneath the gum line. Abnormalities commonly seen include tooth root abscesses, fractures, and resorptive lesions. Dental radiography is yet another tool that we use to provide the highest standard of care for your pet.