A native New Yorker, Dr. Margaret Ullmann has cared for pets as a general practitioner at the Veterinary Center of East Northport since she and Dr. Gantt opened the hospital in 2004.
Dr. Ullmann has loved working with animals ever since she was a child and knew early on she wanted to become a veterinarian. She enjoys getting to know all of the families and pets that come into the hospital and finds diagnosing and treating pets to be both challenging and rewarding. There is nothing more gratifying for her than seeing pets leave the hospital healthy and happy.
She attended Union College, where she majored in Biology and German. Dr. Ullmann received her Bachelor's Degree in Biology in 1982 and continued her education at Cornell University, where she received her Master's Degree in Physiology (with a focus on reproductive physiology) in 1986. She went on to attend Cornell University College of Veterinary Medicine and was awarded her Doctorate of Veterinary Medicine in 1990.
Dr. Ullmann has a wide range of professional interests but is particularly interested in reproductive medicine, dermatology, internal medicine, soft tissue surgery, nutrition, and preventive care. She is a member of the American Veterinary Medical Association, the New York State Veterinary Medical Association, the Long Island Veterinary Medical Association, and the Cornell Feline Health Center.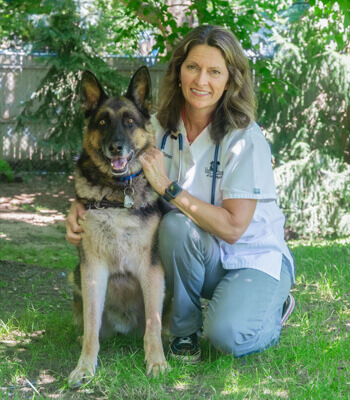 When she's not caring for pets at the Veterinary Center Dr. Ullmann enjoys numerous social activities with family and friends. Her hobbies include traveling, the arts, being outdoors, hiking & biking, resistance training, and yoga. Locally she enjoys dining out, state parks and trails & the Cinema Arts Centre. She has an avid interest in cooking, nutrition, health, and wellness. Currently, she enjoys the companionship of her German Shepherd Maxx and is looking forward to adding to her furry family!