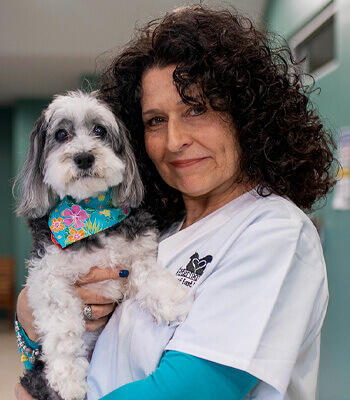 Meet Doreen, one of our friendly and personable Receptionists here at Veterinary Center of East Northport. Doreen joined our reception team in October of 2015 and since has been working hard to schedule appointments & surgical procedures, process medication and prescription food requests, and follow up with our clients about their pets after surgery. Doreen helps with so much more and is wonderful person to engage with. She loves interacting with pet owners and their furry families, and she always aspires to provide exceptional customer service.
Being a client here at Veterinary Center of East Northport I was familiar with many of the doctors and staff members," Doreen says. "When a position became available, I couldn't wait to join the practice, and work with a great group of people while making many new furry friends."
Doreen loves to kayak with her family, including Sasha, their Havanese pooch. She also looks after a Gargoyle Gecko named Taka. Doreen loves going antiquing and spending time with her family, friends and loved ones at their Pennsylvania home. She also likes attending dog shows and competitions in her spare time.