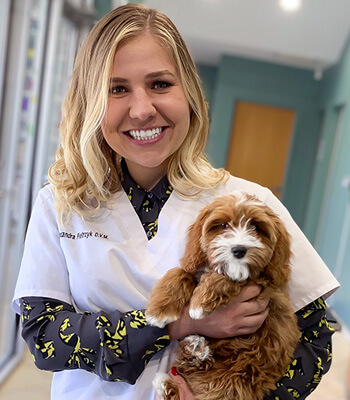 Dr. Alexandra Pietrzyk is proud to be your Associate Veterinarian here at Veterinary Center of East Northport! Dr. Pietrzyk grew up in the San Francisco Bay Area of California. She attended the University of California, Davis where she graduated Summa Cum Laude in 2012 with a degree in Animal Biology and a minor in Communication. She then graduated from their Veterinary program in 2017 and then joined our team in 2018.
Her professional interests include nutrition, internal medicine, innovative approaches to treatment, and oncology. Dr. Pietrzyk loves being able to prevent and relieve animal suffering and she prides herself in comforting concerned pet owners through high-quality veterinary care.
Dr. Pietrzyk was always interested in wildlife and volunteer work. She has spent time volunteering at wildlife rehabilitation organizations where she conducted environmental impact research studies. This is an experience that encouraged her to pursue a career that could impact her environment and community in a positive way. Dr. Pietrzyk was also inspired by her past experiences with her dog Balbina, a black Labrador mix. Balbina suffered from health problems and medical-related tragedies, which made Dr. Pietrzyk feel helpless.
She wanted to find a way to help all animals and their owners during the hard parts of life, as well as throughout their journey to adulthood. Through veterinary care, Dr. Pietrzyk is able to help animals live long and happy lives knowing that they are getting the best possible care.
When she's not in the office, Dr. Pietrzyk loves to spend time outdoors with her terrier mix, Pixie. She also likes to go hiking, camping, finding waterfalls and lakes, traveling to new places, experiencing new cultures, kickboxing, and spending time with family and friends.